Instagram is Finally Letting Users Post Photos from Desktop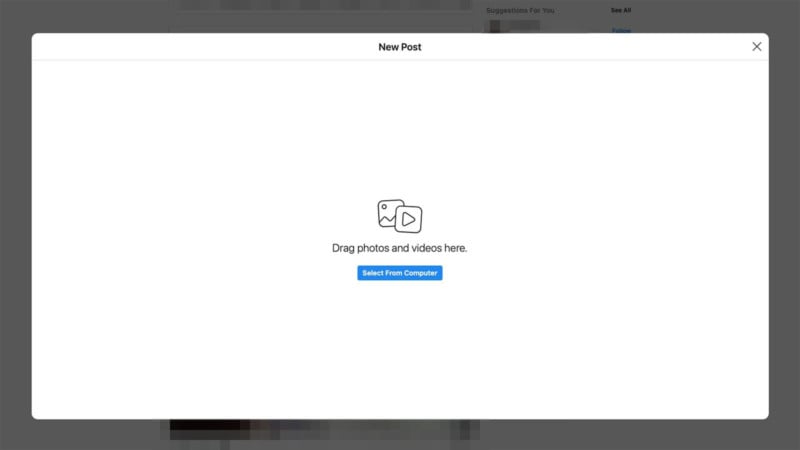 Instagram is now rolling out the ability to post photos from a desktop web browser. This is a huge milestone, as it's the first time the popular photo-sharing service has officially allowed posting from outside of mobile devices.

The company has officially confirmed the move, saying that it's a test that's being rolled out to a subset of its users for now — Instagram has historically rolled out major features as well-publicized tests first before making them available to all users over the following weeks and months.
"We know that many people access Instagram from their computer," a spokesperson tells Engadget. "To improve that experience, we're now testing the ability to create a Feed post on Instagram with their desktop browser."
Instagram's plans to expand posting to desktop was previously spotted by developer Alessandro Paluzzi when it was still being internally tested by the company.
#Instagram is working on the ability to create posts from the desktop website 👀 pic.twitter.com/pATuOHiTGE

— Alessandro Paluzzi (@alex193a) May 14, 2021
Starting this week, however, many users have begun sharing that they now see a new post create button on the desktop website and that they can now create posts using the new system.
NEW! @Instagram lets you create + publish posts via desktop! pic.twitter.com/JWzwKg1kyO

— Matt Navarra (@MattNavarra) June 24, 2021
If desktop posting has been enabled for your account, you'll find a new "add" icon at the top of the site between the icons for Direct Messages and Explore.
Once you drag and drop a photo into the Create box (or select a file using the browse button), you'll be given the chance to crop the photo and edit it prior to posting it.
Instagram previously opened up browser-based photo posting to mobile devices, but users figured out that desktop browsers could take advantage of the feature by pretending to be a mobile browser. With desktop posting officially rolling out, users will no longer need to turn to "spoofing" tactics to create their posts.
This latest move brings Instagram even closer to Facebook (it's parent company) in design. Instagram changed its feed from chronological to algorithmic back in 2016, and it has now even started mixing "suggested posts" into users' main feeds.
Desktop posting has long been a requested feature, however, so it was clearly only a matter of time before it was launched.